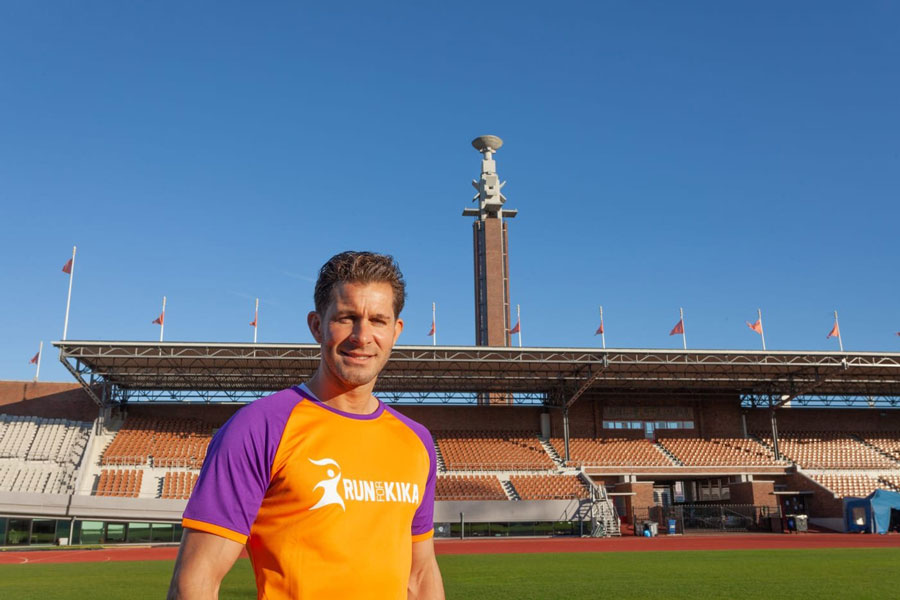 AMSTERDAM (DECEMBER 7, 2020) - Due to the corona crisis, activities supporting Stichting Kinderen Kankervrij (KiKA) and Olympic Stadium Amsterdam Foundation, like so many other events, were canceled this year. Organizations like these are vital to the local community and this year need additional ways to generate financial support.
Fabrice de Waal, a local entrepreneur, wanted to help and came up with the idea of establishing a corona-free fundraising campaign. "I heard that charities such as KiKa and the Olympic Stadium Amsterdam Foundation had difficulty raising funds because of the corona crisis. Events have been canceled, which means that an important source of their income was lost. I then thought to myself: what can I do to help? And I decided to organize an individual marathon to be run on my birthday."
The goal is to raise both money and awareness for these two important organizations. No birthday presents for De Waal this year. "I would prefer friends, family, acquaintances, and strangers to make a donation to these charities. That is a gift in itself. " De Waal is a sportsman but is not a trained marathon runner. "Since the idea came up, I have started training for this marathon. However, I didn't start training until the end of November and running 42 kilometers is not nothing…but I do have tremendous perseverance and expect to complete the 105.5 laps in the Olympic Stadium Amsterdam."
On December 14, 2020, his 37th birthday, De Waal will kick off his individually run marathon. The marathon will be completed entirely at the Olympic Stadium of Amsterdam where all proceeds will be divided equally between KiKa and the Olympic Stadium Amsterdam Foundation. His goal is to raise more than €10,000 for these organizations. "I would be very happy with 10,000 euros, but it would be even cooler if I reached 100,000 euros…and I will do my best for that."
If you would like to make a donation in support of KiKa and the Olympic Stadium Foundation Amsterdam, please visit the following Go Fund Me page https://gf.me/u/y92rc9 for more information.
---
Contact: Fabrice de Waal, CEO, DDW Group – T: +31 6 52 19 51 56 & E: Fabrice@ddwgroup.com
About Fabrice de Waal
Fabrice de Waal is an entrepreneur, father, philanthropist, sports enthusiast, and the chief executive officer of DDW Group, a leading independent insurance agency based in Amsterdam. For more information, see linkedin.com/in/fabricedewaal.
About Stichting Kinderen Kankervrij (KiKA)
KiKa raises funds for scientific research into all forms of childhood cancer. With our contribution, we make valuable research possible. For more information, see www.kika.nl
About the Olympic Stadium Amsterdam Foundation
The Olympic Stadium Amsterdam Foundation is a cultural-historical heritage and a national monument that could use our support more than well now that events cannot take place. For more information, see www.olympischstadion.nl
Trending