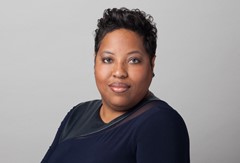 Cade aims to disrupt the traditional notions of insurance to inspire a new generation of financial security
Atlanta, GA., October 19, 2021 — Atlanta Life Insurance announced the appointment of Lacrecia G. Cade as its first Black female president, leading the company through the next phase of transformative growth. Previously, Cade was the head of B2B brand and strategy integration for Aflac, Inc., and general counsel and chief of staff of Morehouse College, making her well prepared for the honorable position. As a trailblazer herself, the admiration Cade holds for Atlanta Life founder, Alonzo Franklin Herndon, ensures that she will propel the company into the future while continuing its legacy.
Cade's 100-day plan includes several core strategies that incorporate social responsibility with its business commitments, including immediate targets for the end of 2021 as well as a blueprint to chart the company's course over the next several years. "The industry requires change, and that requires new thinking. However, our utmost goal is to achieve this transformation while still serving the needs of vulnerable communities and communities of color," Cade explains.
First on the agenda addresses how Covid-19 has impacted the stability of health and finances nationwide for minorities and how to better serve their needs, including:
Pushing the bounds of the insurance industry to reach those in underserved communities
Educating clients, prospects and the community at large in the spirit of inclusion and growth
Leveraging technology to simplify and reach individuals across multiple demographics
Dissecting how the pandemic has changed insurance pricing, service and accessibility for minorities
Guiding and informing individuals in the community about what is urgently needed today to meet these needs
Researching successful strategies from around the globe and shaping those roadmaps to meet the needs of the community
Cade believes that addressing Covid-19 immediately is the right direction for Atlanta Life Insurance. "Insurance companies are in the center of the storm when it comes to Covid-19, but the pandemic opened our eyes to areas that needed adjusting. Making these modifications now will drive permanent change for the better," she states.
About Atlanta Life Insurance
Founded by one of the original members of the NAACP, responsible for holding the life insurance policy of Dr. Martin Luther King, Jr. and active in supporting the civil rights movement, the provider has a strong commitment to social justice that continues to this day. By offering a wide range of personal, commercial and group insurance options that protect customers' futures, Atlanta Life Insurance continues to cultivate financial security for under-represented communities through its unique and visionary corporate structure.
Contacts Media Frenzy Global for Atlanta Life Insurance, Eryn Johnson, eryn@mediafrenzyglobal.com
Trending