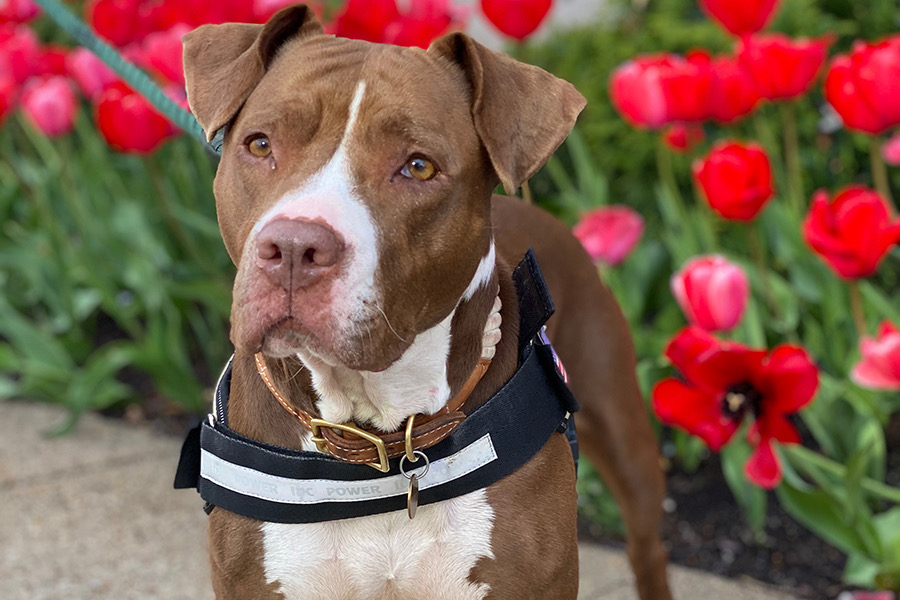 By Regina Lizik, Communications and Fundraising Manager for Animal Farm Foundation (AFF), a nonprofit organization that brings dogs and people together to end discrimination
Every year, thousands of insurance consumers face housing insecurity because of societal stereotypes surrounding their dog's breed or assumed breed. Animal Farm Foundation's (AFF) Dogs, People, and Housing Insurance Project is working to change this, while exposing the underlying racism and classism behind these restrictions.
Breed restrictions in housing insurance are typically only discussed on the surface level - how they affect dogs. But the truth is, they are not about denying some dogs a home. These restrictions and the stereotypes that prompt them are vestiges of racism and classism. At their core, breed restrictions are about denying the people society assumes own "these dogs" a home.
Ann Linder, a Legislative Policy Fellow with Harvard Law School's Animal Law and Policy Program, in her report on "The Black Man's Dog: The Social Context of Breed Specific Legislation," discussed how "pit bull" dogs became associated with gang violence by urban youths, as well as the hip-hop music scene.
Results from a survey in Linder's report also showed that "pit bull" dogs were perceived as most commonly belonging to people of color--specifically, young, Black males.
The insurance industry has a deeply rooted problem with racism, both overt and "causal." The National Association of Insurance Commissioners (NAIC) has openly admitted this by saying, "racial discrimination has been part of the insurance sector landscape for more than 250 years." Stereotypes about people who own dogs who look a certain way are nothing more than coded discrimination against humans, which the insurance industry uses to flag minority populations and prevent them from obtaining housing.
Despite the industry's willingness to admit that it has a problem with denying minorities housing insurance, the industry continues to misrepresent the impact that dog bite claims have on its bottom line. We have seen an error-filled letter sent by the Association of Property and Casualty Insurance Association (APCIA) to the Nevada legislature in opposition to a bill that prevents insurance providers from excluding dog owners without evidence of an increased risk for loss. The letter claimed that there were an alarming number of dog bite incidents and fatalities every year. In reality, dog bite claims declined in the last 20 years, despite the pet dog population increasing during that time.
Additionally, the dog bite claims are not the drain on the industry's bottom line as some misinformation would have you believe. While it is true that the payouts for dog bite claims have gone up, this is due to the ever increasing medical industry and not because dog bites are becoming more severe or more frequent. Dog bite claim payouts total only a small fraction of liability payouts when compared to falls and accidental poisonings. In addition, according to NAIC, homeowners insurance losses for property damage made up more than 98% of losses in 2018 while total liability losses—where dog incidents fall—were less than 2% of the amount.
While the numbers tell us there are more dogs than ever before and that people are increasingly responsible, the insurance companies continue to defend their exclusionary targeted breed lists to deny dog owners much needed coverage.
Yet the insurance companies' purport to have data to support excluding populations of dog owners, but will not disclose the data, algorithms or even resources used to justify its discrimination. AFF has a subsidiary, the National Canine Research Council, which conducts and publishes research on dog bites (and dog bite hysteria), so we would be well aware if there was data supporting the targeting of dog owners based on their pet's breed label. No such data exists. In fact, if the body of literature were to be considered by insurance actuaries, they would learn that attempting to identify dangerous dogs and reckless owners by what they look like or where they live is a failed public policy that is akin to redlining.
The aforementioned APCIA opposition letter contained unsubstantiated claims lifted from a tabloid website. The writer also presented reliable statistics from the American Veterinary Medical Association completely out of context, leaving out the very important fact that the AVMA states that breed is not a factor in dog bite incidents. It is worth noting that this disclaimer is readily apparent on all of the AVMA's information regarding dog bites. This leaves us with the conclusion that the APCIA's intention was to mislead the Nevada legislature.
And indeed, the incorrect information in the opposition letter was initially assumed by legislators to be true, but when the legislators received a fully fact-checked response from legitimate researchers and were presented dog bite statistics within the full context of canine behavior science, both houses passed the bill in question. The facts won in Nevada.
It is behavior like this that suggests that the insurance industry as a whole has the intention of weaponizing dog breed stereotypes as a covert way of redlining and denying insurance, and ultimately housing, to thousands, if not millions of Americans. In the absence of self-regulation, it is up to those of us at Animal Farm Foundation, an organization whose mission is to bring dogs and people together to end discrimination, to advise dog owners of their rights and give them the tools to advocate for themselves. This is why there is the dogspeopleandhousinginsurance.org website. It tells dog owners about the racist and classist history behind breed restrictions. More importantly, the site tells them that this type of marginalization is not acceptable and they can work to end it. The site gives them information on how to contact their local insurance commissioner and demand that insurance policy be based in fact and equality, and not in a history of stereotypes and redlining.
Insurance fights hard against government regulation, but until the industry is willing to effectively self-regulate an act as simple as fact-checking a source, insurance consumers need protection. And we plan to continue to do our part to see that they are protected.
Trending