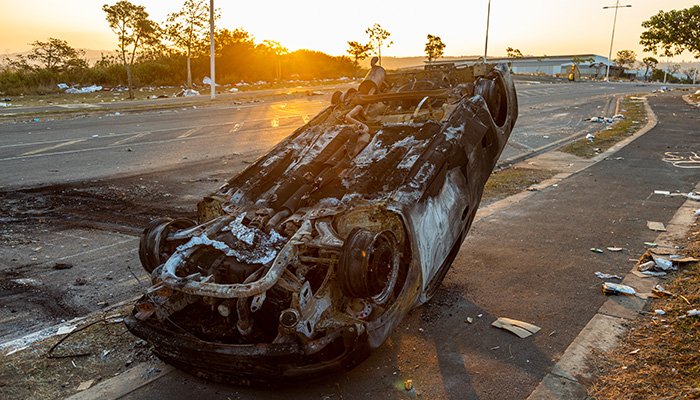 Photo credit: Shutterstock/Gareth_Bargate
JOHANNESBURG – Tuesday, 24 August 2021: Following last month's unfortunate unrests in Gauteng and KwaZulu-Natal, the Sasria SOC Ltd (Sasria) has registered over 95% of all related insurance claims, which are currently being attended to. {Editor: At September 10, 2021, Sasria has asked South African government for aid.)
Sasria estimates that the total number of claims would reach R19 – R20 billion, once the phases of quantifying claims and the finalisation of the work done by Loss Adjustors is completed. Currently, there has been concerted efforts to settle all small claims while at the same time making interim payments for large claims. On small claims, Sasria's agent companies have been hard at work, settling and paying claims up to R1 million.
As the rebuilding and restoring of businesses have begun, our clients have been using the interim payments made to them to remove debris and clean where the damages were made.
Mr Cedric Masondo, Sasria's Managing Director, said: "By the end of the week, we would have paid R2 billion between us and agent companies. Our target is to settle all valid small and medium sized claims in the next six weeks."
Masondo praised the response they have received from reinsurers for their prompt response and upfront payment of reinsurance funds in certain instances, thus helping Sasria avoid any liquidity issues.
Sasria takes note that the rebuilding of all damaged infrastructure, particularly for large businesses, is going to take long hence it intends to engage all clients on the journey of seeing their business recover.
Masondo concluded: "The extent of damage and the destruction is big. We would like to thank our clients for their cooperation. We ask for patience and we can assure all our clients that we are working hard with our agent companies to settle claims as soon as possible, while working towards a meaningful contribution of the rebuilding of our economy.
Trending