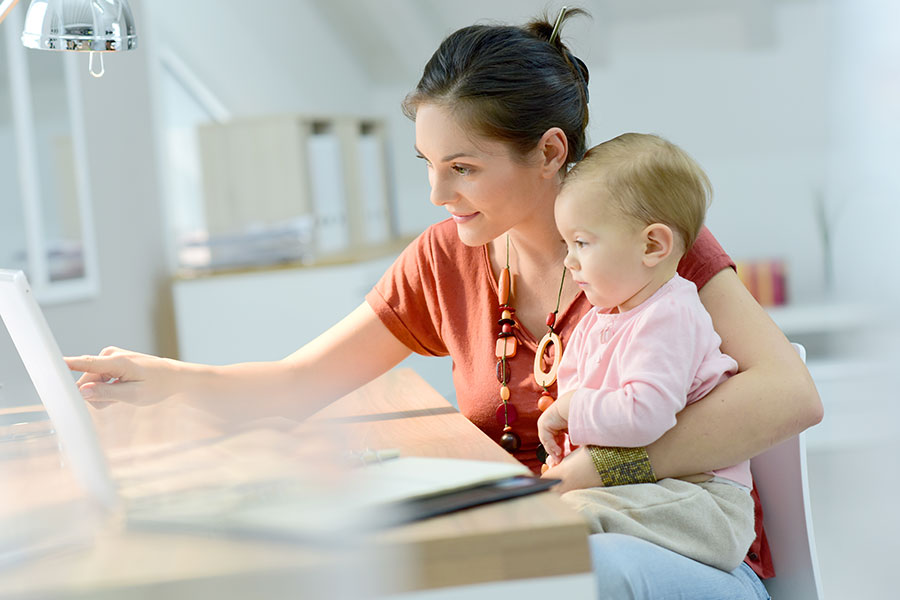 By Julia Hodges
As government leaders weigh when and how to reopen their economies, a question looms over business owners who have been forced to implement remote work: what does employment look like in a post-COVID-19 world?
A staggering 26 million U.S. workers filed for unemployment in the past five weeks. And yet, in the backdrop of these alarming headlines is a less-discussed, newfound reality: millions of workers transitioned from an office to the confines of their homes with surprising ease. To be sure, remote work is an inconceivable luxury for some professions, especially among blue-collar jobs, but for the many who spend their careers behind computer screens, COVID-19 has exposed inefficiencies in our 9-5 workplace model. This pandemic begs us to consider the merits of a more flexible, remote work paradigm that has been gaining momentum since 2008.
A Growing Trend
Spurred by advances in telework technology, remote employment has gone from a rarity to commonplace within the past decade. No longer tethered to a cubicle and armed with a broadband connection, employees are able to produce the same caliber of work from anywhere. Global Workplace Analytics found that the number of people who work remotely increased by 140 percent since 2005. Prior to COVID-19, U.S. Census data indicated that 5.2 percent of Americans worked from home full-time, while 43 percent of Gallup poll respondents said they sometimes do.
Remote work is popular, too. In its State of Remote Work survey, social media management company Buffer found that 99 percent of remote workers would like to continue working remotely at least part time for the rest of their careers, citing a flexible schedule (40 percent) and ability to work from anywhere (30 percent) as the primary benefits. Given the rising demand, companies are increasingly offering remote work as a perk to recruit and retain top talent.
The Benefits of Remote Work
During the 2008 Great Recession, many companies downsized office space and encouraged employees to work from home to reduce overhead and realized that the benefits of remote work extend beyond cheaper rent. Initial studies on this topic have identified tangible benefits of allowing employees the freedom to work outside the office. For example, a recent Harvard Business Review study of U.S. Patent and Trade Office workers revealed that after a transition to remote work, employee productivity increased by 4.4 percent. A Stanford study of a 16,000-employee Chinese travel agency found that remote work increased employee satisfaction and halved the agency's attrition rates.
Anecdotally, remote workers cite the ability to create their own environments and avoid typical workplace distractions—chatty coworkers, micro-managing bosses, office politics—as boons to their productivity. Moreover, remote employment eases the financial burdens of childcare and reduces the necessity to live near large metropolitan city centers in order to maximize career potential.
Potential Hurdles to Overcome
While remote work remains popular among the workforce, commonly cited downsides include the inability to unplug, loneliness and difficulty collaborating. Humans are social creatures, so companies must weigh how to cultivate a healthy company culture in a remote work paradigm. For example, set aside a few days per quarter (or year) for productive, in-person gatherings and team bonding.
In a recent episode of the "Making Sense with Sam Harris" podcast, Matt Mullenweg, an American entrepreneur and founding developer of innovative, open-source web platforms like WordPress, Automattic, CrowdSignal and Tumblr, offered a roadmap for running distributed teams. Mullenweg operates an entirely remote yet collaborative workforce spanning 75 countries. He outlines five levels of distributed organizations:
Level 1: Companies haven't done anything to allow for remote work. In an emergency, an employee could get by without going into the office for a day but won't be nearly as effective.
Level 2: Companies try to recreate a factory model of office work at home. Everything is assumed to be synchronous, and workers are expected to be online during set hours. Managers may install software to monitor work. This "Big Brother" phase may be less productive than office work.
Level 3: Companies begin to take advantage of the medium. For example, on video calls, a designated notetaker screen shares a live Google document. People start to invest in better equipment, such as headsets to reduce background noise on conference calls.
Level 4: Work becomes asynchronous. Employees have the agency to design their schedules and are judged by output. Companies can tap into the global talent pool where people may work in either the local time zone or their most productive hours. The result is a theoretical 24-hour cycle of continuous output. While in-person meetings might generate faster decisions, a remote forum allows space for critical thinking and empowers everyone—not just the highest-paid or most gregarious—to weigh in, resulting in more thoughtful, constructive solutions. Mullenweg has seen introverts, who may otherwise not speak up during an in-person meeting, as the biggest beneficiaries of this approach.
Level 5: Companies have fully integrated technology and are doing better work than any in-person organization could ever do.
Looking Ahead
Upwork's Future Workforce Report predicts that 73 percent of all teams will have remote workers by 2028. Will COVID-19 expedite this timeline now that companies previously resistant to remote work have been forced to implement it?
FlexJobs' Millennial Worker Survey indicated that employees under 45 years old prefer to telecommute full-time due to its positive effect on cost of living and stress from commutes. Will the organizations that fail to adapt to these shifting demographic preferences be faced not only with a diminished pipeline of young talent but a costlier, less efficient business model?
For more insight into the nature and future of work, I recommend:
Making Sense with Sam Harris, Episode #194
"Drive: The Surprising Truth About What Motivates Us" by Daniel H. Pink
"Bullshit Jobs" by David Graeber
Trending