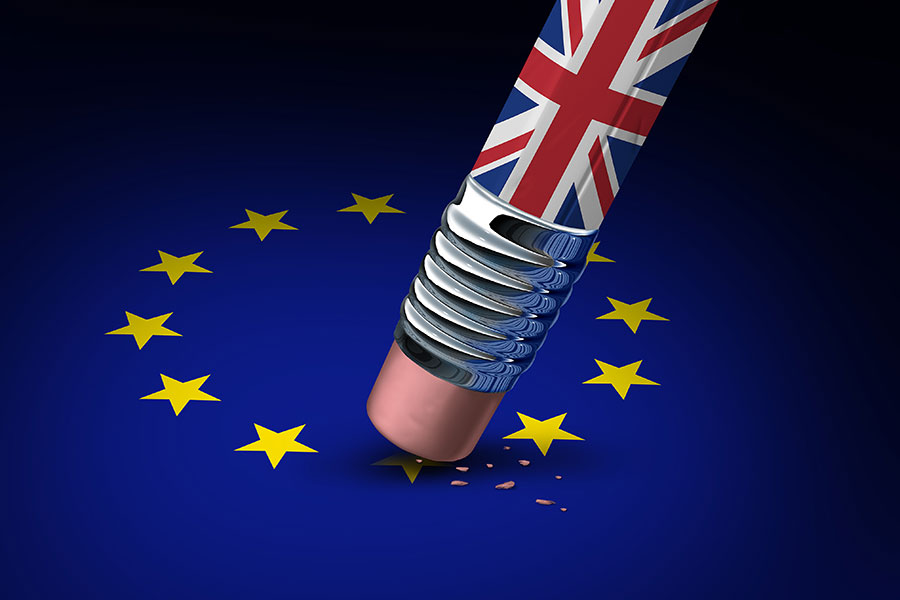 By George Worsley, international insurance specialist

The British government's handling of the Coronavirus pandemic has been shambolic: delays in taking action, poor communications, inefficient provision of protective clothing for medical professionals, childish behaviour from ministers and advisers relating to adherence to rules and recommendations for the whole nation to follow. The list is extensive.

For a while, the pandemic was regarded as a distraction by the Get Brexit Done brigade and one former chief scientific adviser has said that had Britain gone into Lockdown one week earlier, there would probably have been a quarter of the deaths.

Early on in the crisis the Prime Minister ridiculed a journalist who questioned whether it would be a good idea to extend the Transition Period after the UK left the European Union (on the 31st January 2020) from the 31st December 2020 to a mutually to be agreed date sometime next year. Or even the year after that.

Until the transition ends, most things will stay the same. This includes:
Travelling to and from the EU (including the rules around driving licences and pet passports)
Freedom of movement (the right to live and work in the EU and vice versa)
UK-EU trade, which will continue without any extra charges or checks being introduced
With Covid-19 related measures such as quarantines and restrictions on people even being allowed to enter the UK, discussions on these three issues – let alone decisions – have been blurred or just bluntly avoided. Recently some countries appeared on a list whereby people entering the UK from those countries will not be subject to the two week quarantine period. But this list can change over-night.

The deadline for requesting that the EU grant an extension of the transition period passed on the 1st July and so this means a lot needs to be done in a short period of time during which other issues such as managing the whole pandemic crisis are taking priority. Yes, there have been talks between the Brexit minister and the EU's negotiating team but no progress has been made although Britain maintains there are increasing signs that the EU is willing to compromise in some cases.

Aside from trade, many other aspects of the future UK-EU relationship will need to be decided. For example:
Law enforcement, data sharing and security
Aviation standards and safety
Access to fishing waters (as mentioned in a previous article, the value of fishing to the UK economy is less than £1 billion)
Supplies of electricity and gas
Licensing and regulation of medicines
The UK will also need to design and implement many new systems, such as how it will handle immigration once freedom of movement comes to an end
Britain left the EU in January and complies with the bloc's rules until the end of December in return for continued full access for financial firms. Yet one of the issues not highlighted above is Financial Services – in particular, insurance transactions between the UK and EU countries (the value of financial services to the UK is more than £75 billion).

In an ideal world if the UK could stay in the Single Market for Financial Services a huge amount of hassle would be avoided. Both sides would agree on that but EU bosses are saying "if you want to be treated like a member of the club, then you must be a member…" One wishful-thinking negotiator has said that the UK would accept that if the EU would soften its position on Access to Fishing Waters – something the UK is particularly touchy about. That is British politics for you: trading off £75 billion here for a £1 billion advantage elsewhere.

If the negotiators resort to horse-trading they may not listen to advice from say, the ABI (https://www.abi.org.uk/) or the Bank of England, to name just two organisations who have a better understanding of financial services than the negotiators. This would represent a recipe for a messy deal which would take years to rectify.

With hundreds of billions of pounds being spent to help keep this country above water, the economy is almost out on its feet. All the money and time spent on coping with Covid-19 has weakened this country (and many others as well) and a lot more time and effort will be needed to manage this. In the meantime the end of the transition period is drawing closer. Much of the time and effort which is being devoted to help the country recover from Covid-19 will therefore not be diverted to preparing the country for the 1st January 2021. Not a difficult decision under the circumstances.

However, there are still plenty of politicians, civil servants and advisers whose main focus has always been Brexit. What have they been doing? There are reports, from time to time, about meetings and discussions but there has been no concrete progress. Some people are saying that the EU will cave in to British demands as the end of December draws closer and maybe on some issues either one or the other party will blink first.

But if Brexit Britain in 2021 turns out to be a headache, where will the finger of blame be pointed? The government whose pandemic response has been fiercely criticised? The Brexit negotiators who have resorted to Zoom meetings and lost out on valuable one-to-one contacts? No: Covid-19.

One further thought: whatever it is, Brexit or Covid-19, what this country is really going to need is quality, statesmanlike leadership. Wise decisions, clear messages, showing understanding for the will of the people, making promises which can (and do) come true and adapting to change if needed and ensuring that the explanations are credible. People are going to need to be motivated.
Trending