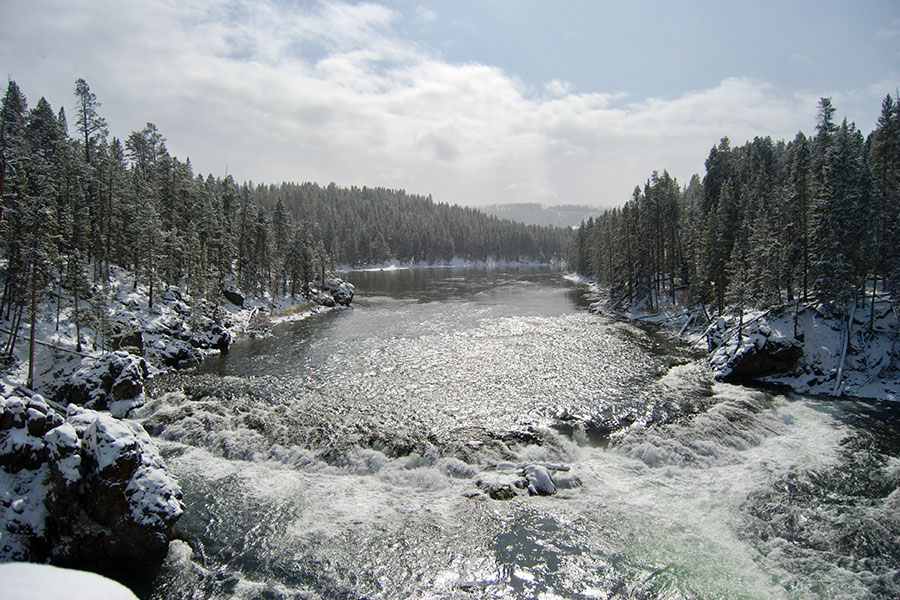 Yellowstone River in Winter
The world at a glance
Australia – ICA announces launch of second business interruption test case. Federal Court of Australia proceedings have commenced to test the application of "further issues" in relation to pandemic coverage in business interruption (BI) policies
LatAm & Caribbean – Health insurance rates will spike 8.8% in '21 in LatAm, Caribbean – Aon's report confirms the growing impact of noncommunicable diseases on health care costs globally. This from Aon's report 2021 Global Medical Trends Rate Report.
France – Aviva sells French arm for e3.2 billion as new CEO Amanda Blanc focuses the insurance giant. New chief executive Amanda Blanc's biggest coup to date. Aviva France is to be sold to Aema Groupe as part of Blanc's plan to slim down the company and focus on solely its UK, Irish and Canadian operations.
Nigeria – NAICOM Expresses Concern over Growing Offshore Reinsurance. Worried that indigenous insurance firms are fast losing underwriting businesses in oil, gas and aviation sectors, Mr. Sunday Thomas, the commissioner of insurance said insurers must invest significantly in technology so as to make meaningful impact in the industry.
---
I'd like to ask you to consider subscribing to the IRL. We'd be honored to have you join our global watch of the insurance world and related businesses. Subscribe now and receive a free Yeti Rambler 16 oz Pint
Click here
Included free with your subscription is me, my experience and contacts around the world. And also, the ISN Market Guides which provide detailed information on local insurance requirements including compulsory coverages, legislation, supervision, non-admitted insurance, main classes, product information, and more.
---
Headlines
Ryan Specialty Group Announces Expanded Executive Leadership Team
Aon plans $122 million contribution to global pension plans – for this I am thankful. In all seriousness, this is a clear and easy review of pension plan funding.
Lloyd's seeks archivist to investigate slave trade – Last June, Lloyd's apologized for its "shameful" role in the trans-Atlantic slave trade. Lloyd's, which was founded in 1688, insured slave ships.
Slavery: Lloyd's is right to review the past but it must address the present too
David Price Launches Fenchurch & Partners – This new independent broker serving the London market is acting as an Appointed Representative of Bennett Gould & Partners (Dorset) Ltd., with a specialist focus on US, Canadian, and European P&C lines. These lines include catastrophe property, trucking, binding authorities, parametric covers, and accident & health. Learn what an Appointed Representative means HERE
Lloyd's insurer Brit says it will not insure Adani coal mine – Brit joins 26 Lloyd's syndicates which have now said they will not insure the mine, according to action group Insure Our Future.
WBN adds leading valuation consultants StempleCrites to its network
Like Venmo and CashApp creates the risk of award inflation through combining non-work and work payments into a larger benefit award
Extracurricular
Can I Travel Once I'm Vaccinated? – After you've been vaccinated for COVID-19, is it safe to travel? Where will you be able to go, and what will be required of you? Experts answer these questions and more.
Spotify: Company keynote openings are amongst the more revelatory public statements a CEO makes; done well, they provide a framing for the announcements to come, even as they contextualize the company's past and set out goals for the future. Daniel Ek's opening for Spotify's Stream On keynote (3:25) was an excellent example (Source: Ben Thompson, Stratechery)
Eat Your Heart Out Hollywood – With movie theaters shuttered across much of the world, Chinese movies produced and released for the Lunar New Year holiday are leading global box office takings:
Theater movies in China grossed an estimated 10.1 billion yuan ($1.56 billion) from February 12 to February 21, or 71% of the full 2020 North American box office.
Since January 1, 2021, China's box office takings have been about 13.88 billion yuan ($2.15 billion), or 98% of the North American total for 2020.
This was a significant bounce back from 2020, when the onset of the COVID-19 pandemic around the last Lunar New Year holiday led to movie theater closures, resulting in a paltry 18 million yuan ($2.79 million) in ticket sales.
Most Chinese movie theaters are currently operating at 75% capacity, and some at 50% in areas at risk for outbreaks, in accordance with COVID-19 control measures.
Trending