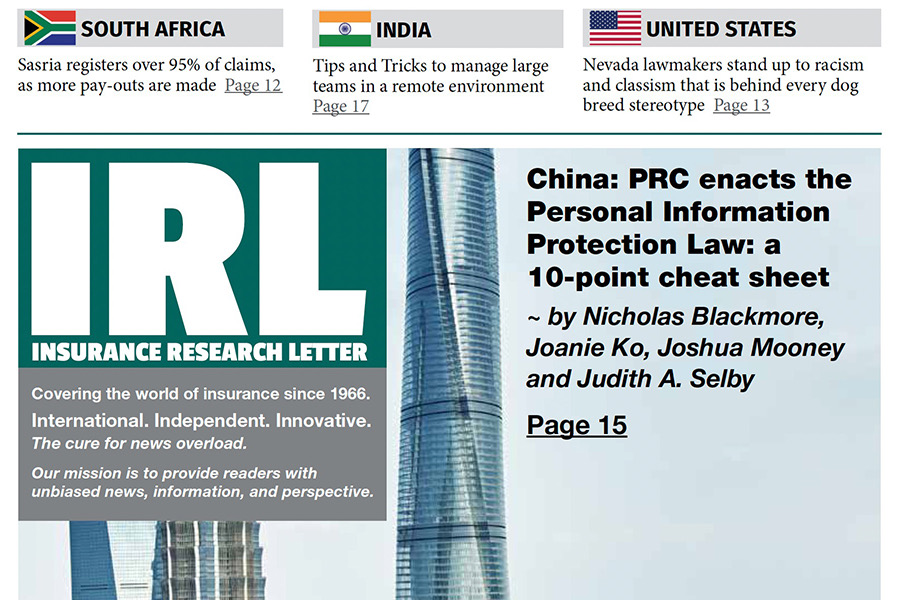 Highlights in this issue:
In the first US article, A good offence is the best defense: Loss Prevention allows companies play offence against D&O risks!, you will read that D&O risks are evolving at a faster rate than both companies and insurers can adapt and what can be done about it with loss prevention programs and more such as D&O Loss Prevention Drivers; Risk Assessment – the first is assessing each D&O threats. This is very well written and easy to read. Even if you are experienced in this class, you'll learn something and likely look at things in a different light.
This is the fourth in a series of articles focused solely on D&O. The previous three have been separately published in the IRL but it's easier to access of the Q3 2021 IRL online and read all three them sequentially in the Special Report.
The next article, R.I.S.E. to the Occasion: Increasing Diversity in Risk Management and Insurance, is from Tim Turner, President of Ryan Specialty Group. I have republished his announcement about a new collaborative diversity initiative because he's spot on with what our industry needs. It's worth reading because we all need to adapt and adopt thinking and behavior that is inclusive
Then there's another eye-opener from my long-time contributor Marci De Vries who looks at technology solutions, specifically around social media data In a Softening Market, P&C insurers look to Social Media Data.
In the European section, I am pleased to present my good friend and long-time supporter Polina Balko who helped me with an interview with founder of unisonSteadfast and long-time associate Wolfgang Mercier about the company's annual in-person and amazingly well-done virtual Independence Day Conference from Prague.
In the Asia & Oceania section, I am pleased to publish three very different articles. The first from Australia, Insurers ready for regulatory changes. You need to read through the preamble a but there's a good summary of reforms and insurer response specifically: Deferred Sales Model, Anti-Hawking, Product Design and Distribution Obligations, Duty not to make a misrepresentation, Breach Reporting Obligations, Unfair Contract Terms, and Claims Handling as a Financial Service.
Then we turn to China where long-time contributor Judy Selby and fellow partners at Kennedys (law firm) write PRC enacts the Personal Information Protection Law: a 10-point cheat sheet. While not exactly about insurance it will most definitely play a role in settling claims should the regime allow same. On August 20, 2021, the People's Republic of China (PRC) enacted the Personal Information Protection Law (PIPL). The law is comprehensive, comprising 74 articles in eight separate chapters. Like the EU's General Data Protection Regulation (GDPR), it is now the fundamental regulatory regime for personal information in its jurisdiction.
My regular contributor from India, KV Dipu, Head – Operations & Customer Service, Bajaj Allianz General Insurance writes about How can insurers personalize customer experience with the help of technology? Dipu brings a very savvy approach to managing customer's expectations because their perceptions are all that counts. Thanks to the advances in technology and his firm's investment in digitization, much has changed, and I think the Indian market is much better for it. The world can learn something from what is going on there.
Keep well everyone and stay tuned for the next IRL. And ask me to send you a free IRL Yeti 10-ounce pint mug when you land a subscriber for me.
Trending